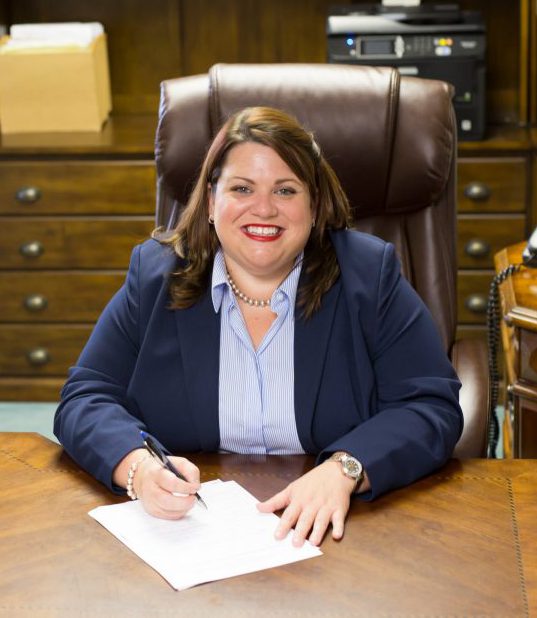 Education
Indiana University, IN, Juris Doctor, 2006
University of Tennessee, Knoxville, Bachelor of Arts in Psychology, 2003
Oak Ridge High School graduate, 2000
Professional Licenses
Tennessee State Bar, 2006
Indiana State Bar, 2006
United States District Court for the Eastern District of Tennessee
Professional Associations
Anderson County Bar Association, Secretary/Treasurer
American Bar Association, Member
Knox County Bar Association, Member
Tennessee Bar Association, Member
Phi Delta Phi, Legal Fraternity
Psi Chi National Honor Society
National Association of Criminal Defense Attorneys
Awards and Honors
Family & Divorce Top 10%– Lawyers of Distinction
Top 40 Under 40 in Tennessee – The National Trial Lawyers
10 Best Female Attorney for Client Satisfaction, TN – American Institute of Family Law Attorneys
Top 40 Under 40 Criminal Defense Attorney, TN – American Society of Legal Advocates
Top Divorce Attorney, 10 out of 10 rating – Avvo
10 Best Attorney, TN – The American Institute of Family Law Attorneys
10 Best Female Attorney for Client Satisfaction – American Institute of Criminal Law Attorneys
Attorney for Justice – Supreme Court of Tennessee
Top 10 Family Law Attorney Under 40 – National Academy of Family Law Attorneys
Top 100 Lawyers, Divorce & Family Law – The National Advocates
10 Best Family Law Attorneys – American Institute of Legal Counsel
America's Top 100 Criminal Defense Attorneys
Lauren Biloski is an attorney that truly care for her clients and assists families who are going through a divorce or family court disputes, personal injury matters, those who have been charged with a crime, and various other civil ligation areas. She serves people throughout East Tennessee, including, but not limited to Anderson, Knox, Loudon, Scott, Campbell, Roane, Morgan, Jefferson, Fentress, Grainger, and Union Counties. Lauren is the recipient of several honors and awards by independent attorney rating and ranking entities and has earned a reputation for client success and satisfaction.
She understands that facing legal issues is a life-altering experience. It takes control over every aspect of life, including the person's own self. Lauren's goal is to help people stay in control of a tough situation, face it head-on with confidence and zeal, and not relent until a suitable and satisfactory outcome is obtained. Her goal is always to obtain a resolution as quickly as possible by developing a strategy that works for clients' individual cases, rather than a one-size-fits-all approach.
Lauren has represented individuals with high net worth divorce disputes to the every day hard working people of East Tennessee who wish to dissolve their marriages and relationships. She has represented individuals facing criminal charges from first degree murder to a simple traffic infraction. Due to Lauren's previous employment with the Hamilton County Prosecutor's Office in Indiana, Lauren is able to look at criminal defense cases from both sides – the prosecution and defense and develop a unique and creative approach. Lauren also has handled hundreds of matters involving juveniles charged with a crime or navigating the juvenile court system. She also handles many cases on a pro bono basis and helps those who have limited financial means and was honored with being named an Attorney for Justice by the Supreme Court of Tennessee.
When she is not representing clients, Lauren enjoys traveling, advocating for animal welfare efforts, reading, and visiting family. She is a member of St. Mary's Church in Oak Ridge, Tennessee and enjoys giving back to the community through her service on various public and private boards and community organizations. However, Lauren's favorite past-time is spending time with her rescue dogs Madison, a Westie, and Buster Brown, a puggle, who can often be found assisting snoring at the office.
How can I help you today?
WHAT CLIENTS SAY ABOUT LAUREN
Lauren is not to be underestimated in or outside the courtroom. She is exceedingly competent and fiercely compassionate about her field. She fought for me the way I would fight for myself. I can't sing enough praises about Ms. Biloski. If you want the best legal results, choose Biloski!

I am so blessed to have Lauren Biloski as my attorney. She is amazing. She & her associates are quick to respond, and she really shows up! They are so understanding of circumstances, and will do their best to help. I went through an awful child custody case for my 2 oldest boys, and she showed up at the court hearing ready for a fight to defend my boys' needs. She is so friendly & bubbly, but a complete about-face, focused bulldog in the courtroom, a true fighter. She was so prepared! Because of her, I have peace of mind.

Ms. Biloski did a phenomenal job on our case! Her professionalism was second to none and we'd use her again today. Lauren thank you so much. You were such a blessing to our family and we would have surely been lost without you. May God bless you in all that you do!

Lauren was a wonderful attorney who listened to my needs and successfully represented myself. She was very easy to work with and openly communicated with myself about the processes and where my case stood. I would absolutely recommend Lauren to anyone who is need of an attorney as you will be extremely pleased.

When it comes to these two special women there's really not enough I can say to describe them!!! There simply the most caring, hardest working, motivated lawyers I know! They helped me get exactly what I wanted and deserved with my daughter! They fought for almost 2 years for me and always was there when I needed them! They'll definitely fight with everything they have and beyond if you need them! I Highly recommend these two ladies because without them I don't think I would of been able to get 50/50 custody with my daughter like I deserved! And if you have ever wanted to see a mic drop in a court room just ask them to be your lawyers!! They won't disappoint!!!

I'm a single dad with two boys who went through a horrendous divorce saying it lightly. After moving from California to Tennessee I find myself once again embroiled in a child custody battle with my ex for my children's rights. Lauren Biloski and Channing Miller took my case and handled it with the most respected ability I have ever seen. These two women are absolutely fantastic as lawyers and will always handle any legal cases I might find myself in. If you're looking for excellent lawyers both women are truly the best. Admire their professionalism and there always will be a part of my team.

Lauren is very courteous. Appointment wait time was a few minutes. She took the time to listen to me. After collecting the facts she immediately made her calls, and in a couple of hours filed a motion in court. I was in a hurry for this matter to be brought before a judge and she helped me accordingly. I noticed she is well respected in court. The matter was judged in my favor. She was upfront about the cost, her fees were reasonable and there was no demands for more money.

I had a very difficult case and for a fact I wouldn't have got anywhere without Lauren! She was excellent! She worked great with me and helped me so so much, I don't think I could thank her enough!!! I highly recommend her!

Mrs. Biloski is the best attorney. She is representing my children and I in a case which is very complex. She is outstanding and always replies to any questions in a very timely manner. Lauren represents my children as they were her own. I'm very proud to know and be represented such a great attorney.